After that lovely meal -achem- at Arancia Blu (ref. last honeymoon post) we had to get up REALLY early in the morning to take the train out to the airport to catch our plane to Athens and then on to Santorini. The shuttle train from Roma Termini out to the airport is fast and inexpensive - about half the price of a taxi, even with having to buy tickets for two people!
Our flight from Rome to Athens was lovely and without incident. During a pit stop at the Athens airport, I saw something referenced in all of our guidebooks:
You're not supposed to flush anything, including toilet paper, in the vast majority of the toilets of Greece. There's a little trash can positioned by every toilet that is there for that purpose. This takes a little getting used to, but if I had the choice I'd take the little trash cans over the hole-in-the-floor toilets any day.
Our layover was pretty short, so it was soon time to go out to the tarmac and board our puddle-jumper to Santorini.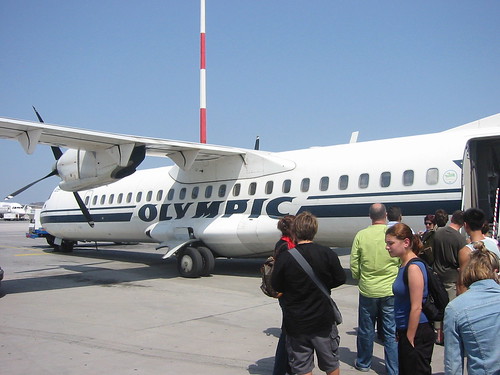 On that flight, we struck up a conversation with an American girl across the aisle. She didn't have a place to stay that night, and was getting concerned - so we lent her our travel books to give her a few more leads on possible sleeping places.
The flight was beautiful, over the Mediterranean. Small islands dotted the sea and looked extra inviting. I would love to spend years hopping from island to island...
We landed at the teeny airport and retrieved our bags, then hooked back up with the hotel-less American and headed for the shuttle-bus stop, but of course we just missed the hourly service.
Doing some pretty simple math, we realized that with three people it would actually be cheaper to take a taxi (8 euros) than wait an hour for the bus (3 euros each) - so we walked back to the terminal, hailed a taxi, and got in for the short ride to the main town of Fira.
This was when we struck up a conversation about where she was from and where we were from. As it turned out, we were both from Chicago - she from the near North side and me from the South Side. She then dropped a bomb that she went to the U of C Lab schools during middle and high school - the same school I attended for three rather unhappy years of my life in middle school! We didn't know each other, since she was a year ahead of me, but still... a really odd moment.
The taxi dropped us off near the center of town (well, side of town, since Fira snakes along the top of a fairly narrow cliff) and we said our goodbyes. Husbear and I headed down to Hotel Loucas, our home for the next several days. We walked down narrow streets with white, white curbs (we later saw the proprietors out painting their stoops in the early mornings) and eventually popped out on top of a beautiful view. Actually, I'm not sure if calling it "beautiful" does this island justice...
I mean, COME ON. this was just ridiculous.
Our hotel, the Hotel Loucas, is one of the oldest in Fira. (It really only dates to 1968, though - apparently, Fira hasn't been a crazy popular tourist destination for all that long.)
That's me on the walkway, in case you were doubting that we took these pictures.
Our room was many steps down the side of the cliff - and it was a great, great room. Interestingly, it's featured on the hotel's website - that never happens to me!
Though it was quite hot during our visit (which was only June, so I imagine it must be boiling here during the late summer) our room stayed nice and cool. And we had a great view.
There are several small islands in the middle of Santorini's bay - they are what's left of the giant volcano that erupted in 1650 BCE, destroying the center of the island. They're called Palea Kameni (old burnt - appeared in AD 157, according to Frommer's), Nea Kameni, (appeared beginning sometime in the early 18th century) and Thirassia, the only one of the three that's inhabited. We didn't unfortunately have time to go out to the three islands, but I imagine the Kamenis would be fascinating to a geologist.
We decided to go for a walk up to the Petros Nomikos Conference Center. I know this sounds strange, but we heard they had a great exhibit on the ancient wall paintings of Akrotiri, a site called the Minoan Pompeii that was buried in the ancient volcanic eruption.
First, though, we figured we'd go get some cash out. We got a little concerned when we reached the bank.
Luckily, though, the ATM was still stocked. I'm glad we weren't relying on traveler's checks, since we would have been SOL.
The walk up to the conference center was stunning.
The sunlight on the island just illuminates everything in a way I've never seen before. Most of the streets were paved with small pebbles, a detail which must have taken some care, and quite a bit of maintenance.
This particular mosaic was in the courtyard of a Catholic Church in Fira.
I think I'll have to pause now for a breather - we did take some pictures of the wall paintings, which were not at all what we expected, and of course a lot more pictures of the island.
But right now, I have to watch Canada play Italy in women's hockey. I find that during the Olympics, I tend to watch sports I would NEVER seek out normally. However, if someone wants to form a national curling association, I would be all about watching that.
-girlie