While I think we would have been happy staying at the Villino delle Orchidee (good pictures of the little villa at that site, by the way) for years, we stupidly only rented it for a week. On June 12th, it was finally time to leave Positano.
That morning, we packed up.
I am so proud of my modular packing! Don't even get me started. I can seriously wax rhapsodic for way longer than you'd care to listen about the merits of different packing systems. Of course, now that I've discovered solid shampoos and conditioners from Lush, my packing is going to be even better! Because I can escape the tyranny of the bottle!
Flush with pride after a successful packing, it was time to clear out the kitchen. For the most part, this meant finishing off the last little dregs of various liqueurs.
It's a tough job, but we couldn't have left that behind, you know? Plus, it did make the trip from peaceful little Positano to crazy-ass Naples and then to slightly less crazy Rome less stressful than it otherwise could have been.
We strapped on our backpacks, took a couple farewell pictures of the apartment, grabbed the trash, and headed out the door.
I was almost, but not quite, sorry to see the last of the crazy stairs. Of course, at the time I was unaware of Santorini's fairly stair-centric nature... but let me remain blissfully unaware for another day, 'kay?
We had our best view of Mt. Vesuvius yet, on our way to Naples to catch our train to Rome.
Though our first couple of days in Rome had been fairly cool, it seemed like summer had finally arrived - with a vengeance. The train from Naples to Rome was ridiculously hawt.
Shiny girlie!
On the Rome end, our hotel was just a couple of blocks from the train station. This was good, because we were catching a train pretty early in the morning to get to the airport - but also not so good, in that the area is apparently the toilet of greater Rome. Oh, did it smell like pee... wheuuuu!
We passed this sign on the way to our hotel.
I just took a picture of it because I grew up near the University of Chicago, so his was a name I actually heard a lot when I was a kidlet. After I got back home, I found out that my grandparents were actually good friends with his widow! (it's a small, small, world...) For my feeble attempt at a translation, click on the picture.
Thankfully, the pee smell stopped at the gate of our hotel. Praise Somebody! (probably the hotel's proprietors?)
The hotel (hotel pavia) was nice, with a great location for our needs. I'd stay there again.
Plus, it had a sweet view out the back, of what we're pretty sure are the baths of Diocletian.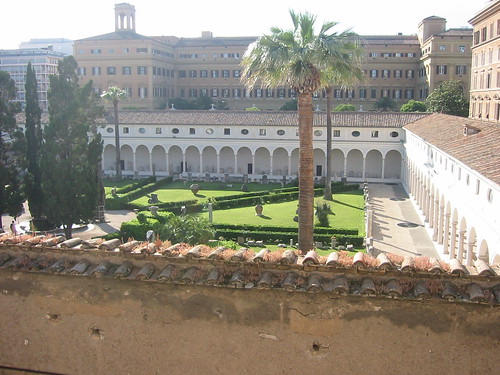 We settled in, then debated over where to go eat dinner. With only one night left in Italy before leaving for Greece, we really wanted to have a great meal.
Alas, we were to be disappointed. The place we went, Arancia Blu, made us very, very sad. The service came with an extra side of snoot, which we didn't order - I think it may have had something to do with the fact that we tried to order house wine, in a place that had a very extensive wine list on which they really prided themselves. Or perhaps it was because everyone in there seemed to know all of the waiters and the sommelier, and we didn't. Or maybe it was that the food tasted like hardboiled ass. ('scuse my language.)
Whatever the reason, the meal was really disappointing. Arancia Blu is supposed to be some of Rome's most innovative, and tastiest vegetarian cuisine, and it nowhere near lived up to that billing.
Of course, that was not the last time on our honeymoon that we were to be really disheartened by a meal.
We left Italy for Greece the next morning, and we were definitely sad to be leaving Italy behind. Leaving just made us more determined to make it back, sooner rather than later - and we're working on it.
girlie